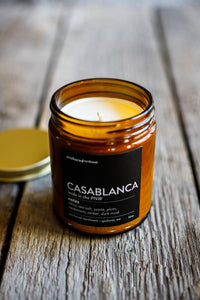 We are thrilled to offer beautiful scented candles from Anchored Northwest! 
Notes: Citrus, sea salt, ozone, plum, cardamom, amber, dark musk

Our triple scented, 100% soy wax candles are hand poured in Spokane, WA. We use real ingredients in our candles - fragrance oils infused with essential oils, and 100% American-grown soy wax
What does "hand-poured" mean?
What do we mean when we say "hand-poured"? It means that we make candles the old-fashioned way. We take the time and care with our own two hands. Everything at Anchored Northwest is done by hand - from the wicking of your cedar wick to the pouring of your 100% soy wax candle.
Materials:
Soy Wax, Galvanized Tin, Fragrance/Essential Oil Blend
(Aprox burn time: 50+ hrs)