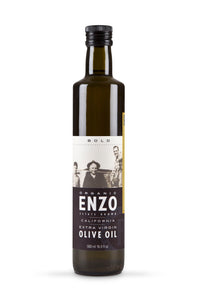 Enzo Organic Olive oil in BOLD is robust and peppery in flavor.  
Since 1914, the Ricchiuti family has diligently worked the land in California's fertile Central Valley with the goal of bringing premium products to its loyal customers. The Ricchiuti's ENZO Olive Oil Company, nestled among meticulously manicured olive groves, is unlike many others.
From the planting of each 
and every tree, harvesting of the crop, milling of the fruit, and bottling of the oil, all steps are completed on site and under the direction of Patrick and Vincent Ricchiuti, representing the family's third and fourth generation. This hands-on
approach is what it takes to produce exceptional, aromatic, and flavorful oil.
500 ml/16.9oz Organic Olive Oil in Bold with a robust, peppery flavor.
Single Origin
Non GMO
Healthy Polyphenols