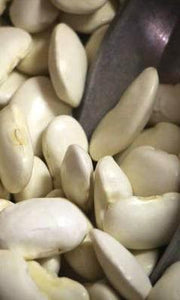 Royal Corona beans can replace any white bean but be prepared to be astounded by how big they are when cooked. Fully cooked, they can be a little starchy but you can also keep cooking until they reach the creamy point. Enormous, thick-skinned runner beans with a surprisingly creamy interior. A best seller, it's a versatile giant that works in all kinds of cuisines. A true pantry staple. 

Suggestions: Pot beans, soups, pasta e fagioli, casseroles, cassoulet, salads, dips 
A new hand-harvested crop straight from Europe into your pantry. Giant, fat, white runner beans that are creamier and more luxurious than Greek and Spanish gigandes and a little denser than traditional Italian coronas. 

With origins in Mexico this giant legume is bred in Italy and grown in Poland.  
Martha Rose Shulman praised them recently in the New York Times: Royal Coronas are large white European runner beans that are similar to Greek gigandes but bigger, richer and sturdier. They are about twice the size of a lima bean and, unlike many other large white beans, the skin doesn't slip off when you soak them.

These oddly grand beans can be enjoyed in salads, tossed with wild mushrooms, or even pureed for a unique filling for ravioli and other stuffed pastas. You can push things even further and enjoy a superior creamy bean that needs only a few shavings of Parmesan and a drizzle of your best olive oil. Naturally, they'd be great in soups but don't forget them in a chile sauce. A true alternative to meat.
Latin name: Phaseolus coccineus
Country of production: Poland
1 lb bag