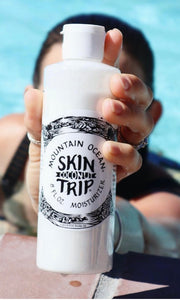 Skin Trip is Mountain Ocean's original coconut moisturizer. Its light, smooth feel is unique among skin moisturizers. This extremely fast absorbing, non-greasy formula soothes, protects and quickly replenishes needed moisture to dry skin. Blended with coconut oil, aloe vera, and distilled lanolin, Skin Trip provides your skin with the nutrients it needs and effectively reduces the natural evaporation of moisture from being exposed to the elements. pH Balanced. Perfect after sun, after shower, after shave, anytime.
Skin Trip was designed and created by Karen Benjamin in the high, dry climate of the Rocky Mountains of Colorado. Here the sun shines 300 days a year, the air is dry, and the altitude is a mile high. In these conditions skin can suffer from dryness, windburn, and sun exposure. Designed with sports enthusiasts, men and women, children, and the elderly in mind, it is perfect for anyone that needs a natural and effective daily moisturizer.
Since 1971, Skin Trip has been a favorite choice of moisturizing lotion. Many people love, and have benefitted from, the results this fast-absorbing lotion provides. Skin Trip's ingredients are safe, biodegradable, and are never tested on animals.
Our signature coconut fragrance was originally derived from an essential perfume oil. It does not contain phthalates or parabens and very few people have been allergic to it.
Skin Trip is a delicately PH balanced formula. Fast-absorbing and long-lasting, it leaves the skin feeling soft, smooth, moisturized and protected. The formula contains an abundance of whole natural ingredients, emulsifiers derived from natural and organic resources, and no harsh preservatives.
In the mountains, or by the sea … Skin Trip performs well. Use daily after shower, after sun, after shave…anytime, anywhere.